Report  from New York on 29 November suggests that  Indian Prime Minister Narendra Modi is leading an online poll of readers' choice for Time magazine's 'Person of the Year' in 2016 honour, which has contenders like US President-elect Donald Trump, the outgoing US leader Barack Obama and Russian President Vladimir Putin. For the fourth year in a row, Modi is among the contenders for Time's 'Person of the Year' honour, which the US publication bestows every year to the one "who has most influenced the news and our world in the past year, for good or ill."
Last year German Chancellor Angela Merkel was Time's 'Person of the Year'. While each year Time's editors make the ultimate decision as to who from among world leaders, presidents, protesters, astronauts, pop icons and disrupters should be person of the year, it also asks readers to cast their votes and decide who they think most shaped a particular year. Time said the reader poll is an "important window" into who they think most shaped 2016.
Modi had won the readers' poll of Time's Person of the Year in November 2014, securing more than 16 per cent of the almost five million votes cast. He was again among the contenders for the annual honour in 2015 but was not among the final eight candidates shortlisted by Time magazine editors for the title. "In 2016, the news and our world were subject to a wide range of influences. A presidential campaign in the United States exposed deep-seated fissures and led to the election of a president without precedent in the nation's history. Elsewhere, leaders like Vladimir Putin and Recep Tayyip Erdogan commanded the spotlight on a global stage," Time said.
During a very critical global situation of mankind, it was my heightened expectations from this great leader NARENDRA MODI that I predicted his coming to power as India's 'Napoleon Bonaparte' in my latest book LIFE ON MELTDOWN, a cause book pertaining to humanities/environmentalism genre which was been written by this author and published by Layman Books some two months before the counting of votes of the 2014 Indian Parliamentary Election 0n May16, 2014. Through these kind of thinking, I saw in him the great aspirations Swami Vivekananda, Subhash  Chandra Bose and Gandhi all rolled into one. Please read it here:  http://www.humanfirst.in/discussions/narendra-modi-coming-of-indias-napoleon-bonaparte-2/                                                                                                                                                    
Here I was visioning the emergence of a great leader in India promising stability, peace and progress for her 1.3 billion peope, in a highly insecure, unstable and embattled world.  Even though I hold no brief for Narendra Modi nor do I have had any opportunity to watch him in close quarters, as an author on humanities and ecology and watching the global social and political scenes from a little far, as if from another civilization/culture since the last few decades, Modi then had emerged highly visible in my mental radar since about the last 10 years then. Attached below is the  report regarding the prediction and analyze in the book having come true in Janmabhumi Newspaper (Kochi) dated 21 May 2014. 
THE PHILOSOPHER KING OF THE GLOBAL VILLAGE
A great leader gives life to the sleeping mass and helps them to awake and realize their own potential and power. He revives confidence, hope and courage in the people and unites them with a mutual dream of a progressive society.
Since the last forty years, despite of his frequent travels and political trips, Modi keeps an unfailing discipline of 10 days fast that he reportedly practices two times in a year. Modi is a staunch vegetarian who has never indulged in any kind of intoxications. Here, as a disciplined political leader, he is like Mahatma Gandhi. At times Modi seems to be much more of a nationalist and a more practical, modern and foresighted leader than Gandhiji himself.
Narendra Modi is a brilliant fusion of modernism and the essence of the vast Hindu philosophy. This has never been seen in any past leaders of India. Gandhiji was a religious man and had subtle understanding of Indian mysticism and spirituality, but he had not much belief in modernism. Had Jawaharlal Nehru, the first Prime Minister of free India (Nehru was an ardent supporter of modernization and lacked the subtle understanding of Indian mysticism and spirituality) supported Gandhiji and developed India on the philosophy of Gandhiji, India would certainly have been a very healthy and environmentally strong, leading nation in the world. But Nehru went sharply against the much sustainable and pollution-less Gandhian model in nation building.. However, I see Narendra Modi as a combination of Gandhi and Nehru.  But I hope Modi, as a new global leader, will eventually shed the Nehru line (see box).
As a leader, Narendra Modi may be seen as new global 'VILLAGE ELDER' than any conventional professional leader, and he is capable of giving a human touch to leadership. In Modi, I can see a sage-like statesman and an enlightenment leader. And Modi, during his maiden trip to the United States as Indian Prime Minister, did not want to change his usual practice of fasting, which, like in the case of Gandhiji, is also a sure source of his enlightenment. And he proved his stamina and vibrant energy level in America by abstaining from food for days, throughout his grueling schedule that featured the United Nations General Assembly, a rally of Indian Americans at New York's Madison Square Garden and talks with President Obama in Washington.
Today we know that mankind is under the wrong modern systems since many years, and that this fragile world has to be brought under the right human hands to correct this aberration of modern age.
MODI MAGIC ARRESTING THE FAST DOWN-SLIDE IN INDIA
Lately, Prime Minister Narendra Modi's magic has accomplished a very sensitive war on Corruption and Black Money in India  through what has come as the  Demonetization Move. Modi announced that the demonetization is only the first step in the war against country's black money. He said that the high denomination notes being demonetized is the start of a continuous struggle against black money.  Read more: https://www.facebook.com/john.muthukat/posts/10207319624730970
HSBC India's chief executive Stuart Milne lauded Prime Minister Narendra Modi's move to demonetize the pre-existing stock of Rs 500 and Rs 1000 currency notes as a BOLD STEP. "This move will bankrupt terrorists, black money holders & corrupt officers", wrote one commentator about this revolutionary move announced and implemented earlier this month.
World Economic Forum Has called it a "bold and decisive step".  Chinese media is all praises for PM Modi's 'startling' move on black money. Terming Modi's decision to demonetize high value currency notes as "startling and bold",
A day after Prime Minister Narendra Modi reached out to people directly for feedback via his App on denomination, about two weeks after this crucial revolutionary move, more than 90% of the respondents said that government's move to tackle black money  is above four-star rating. 73% of them gave it five-star rating of brilliant — was above four-star rating.
This indeed is a WAR on black money. Life may be in chaos at the present moment but people will bear this inconvenience. It is all for a good humanist cause. They feel that are bound support this in whatever small way they can.
Read more:
Buy Life on Meltdown eBook online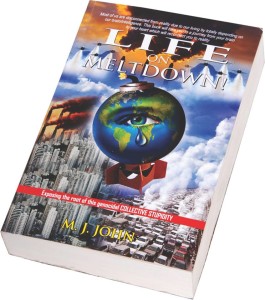 For buying this book: DOWNLOAD FREE & PAY LATER
To get the PDF of this 640-page book LIFE ON MELTDOWN:
Download the PDF of this 640-page book LIFE ON MELTDOWN: Click below to download:
Life On Meltdown eBook (PDF)(Right Click and press Save As)
And pay 5 Dollars, if you find the book helpful.
For online payment:
Paypal :https://paypal.me/MJJohn/5